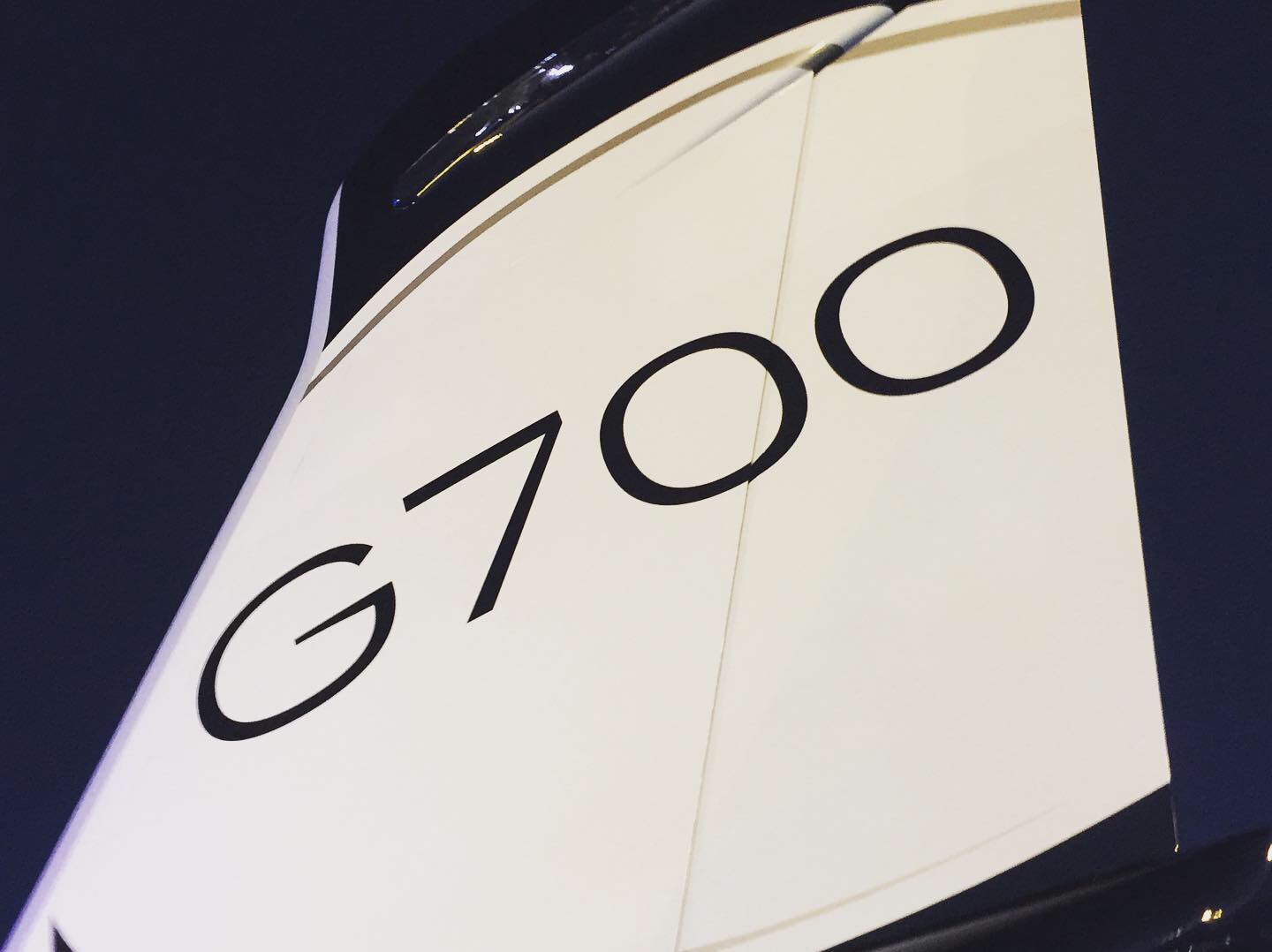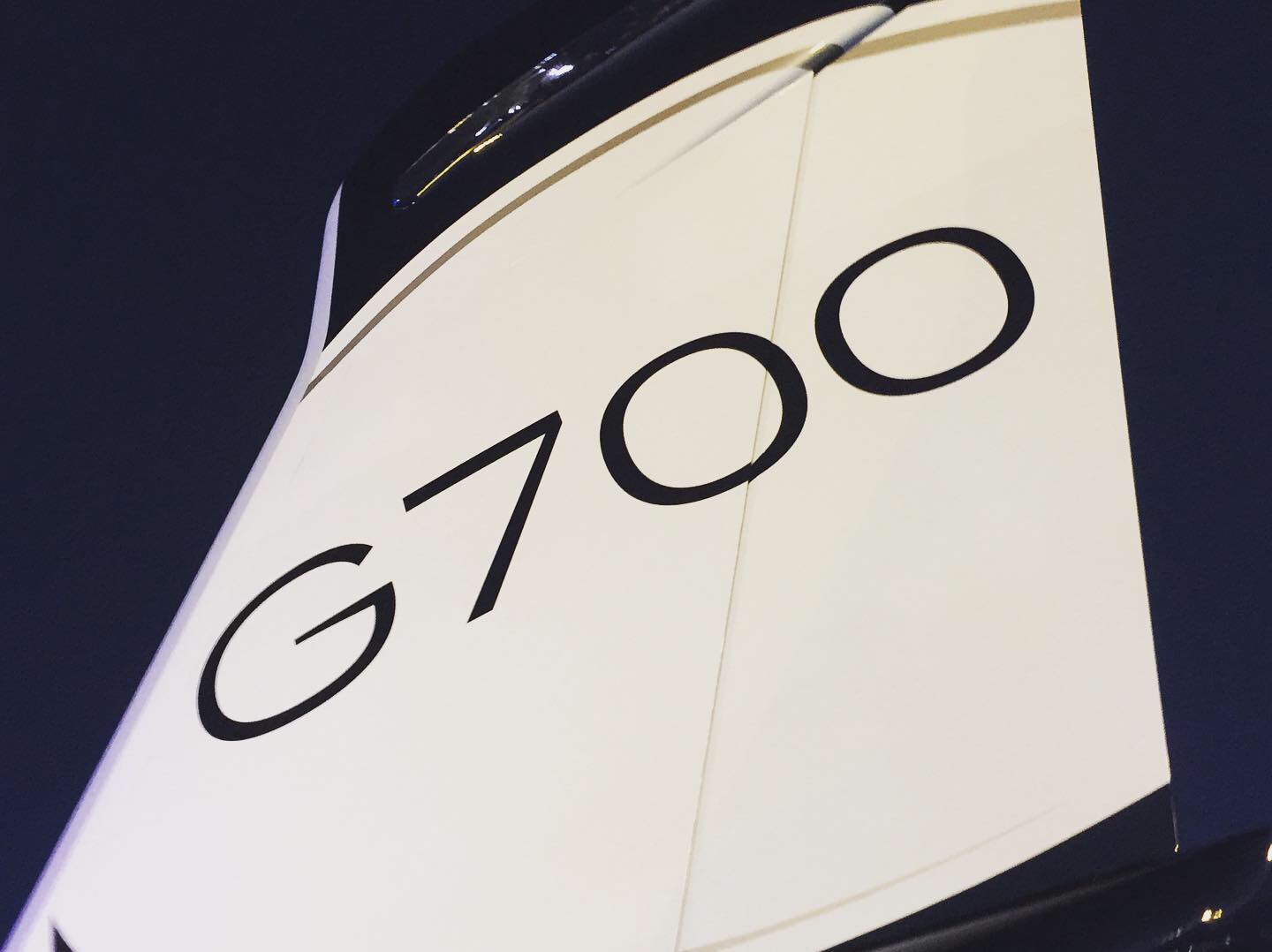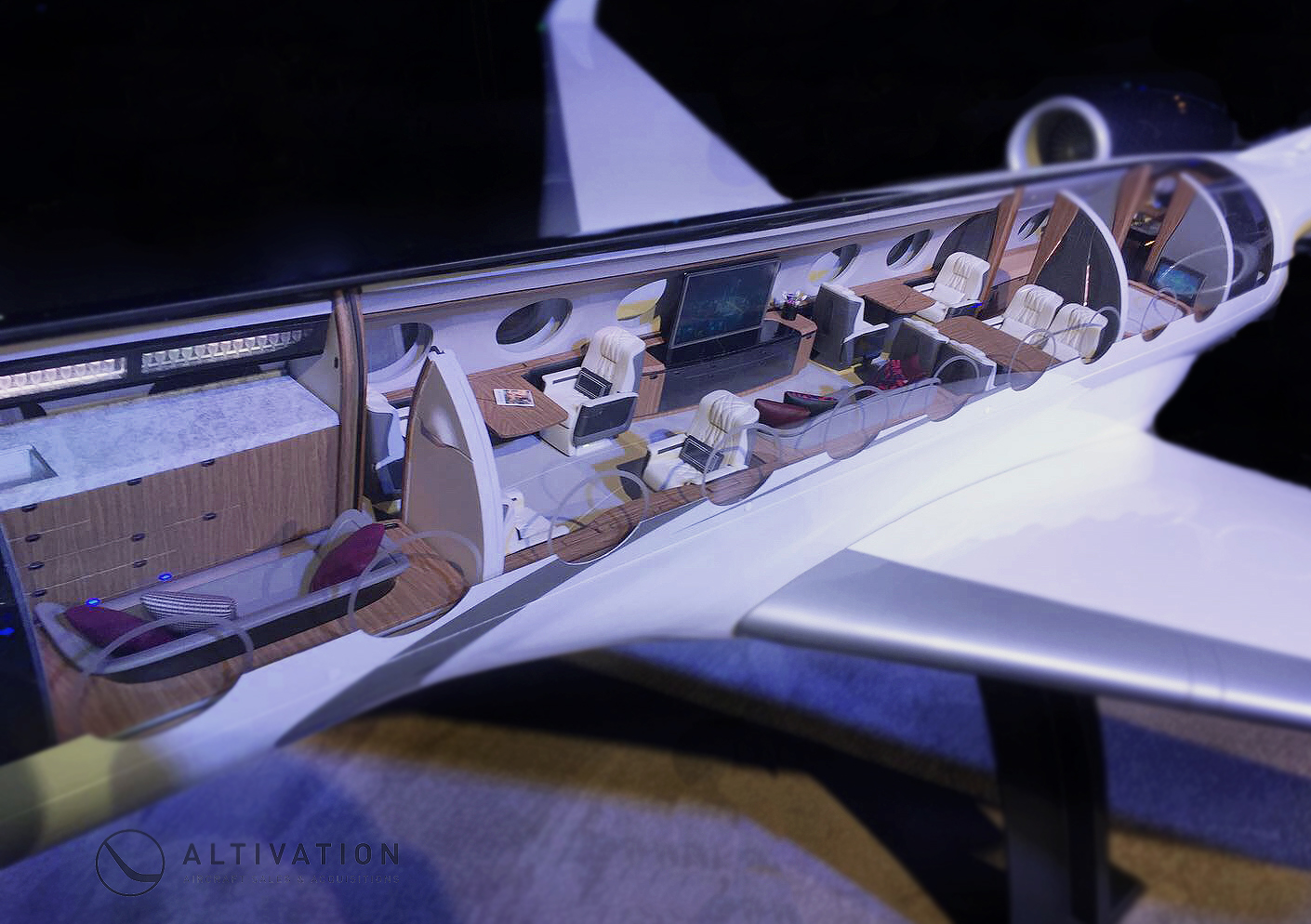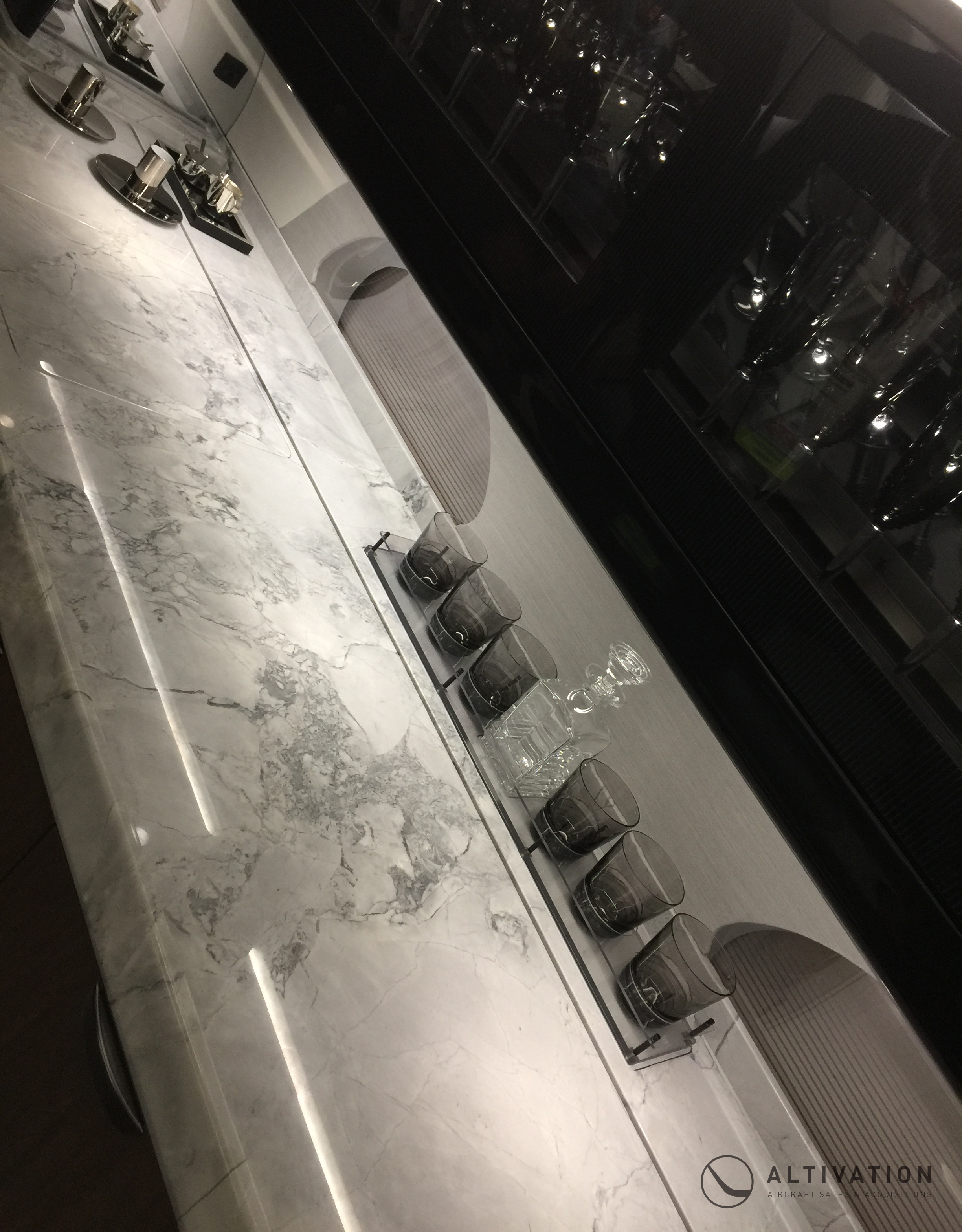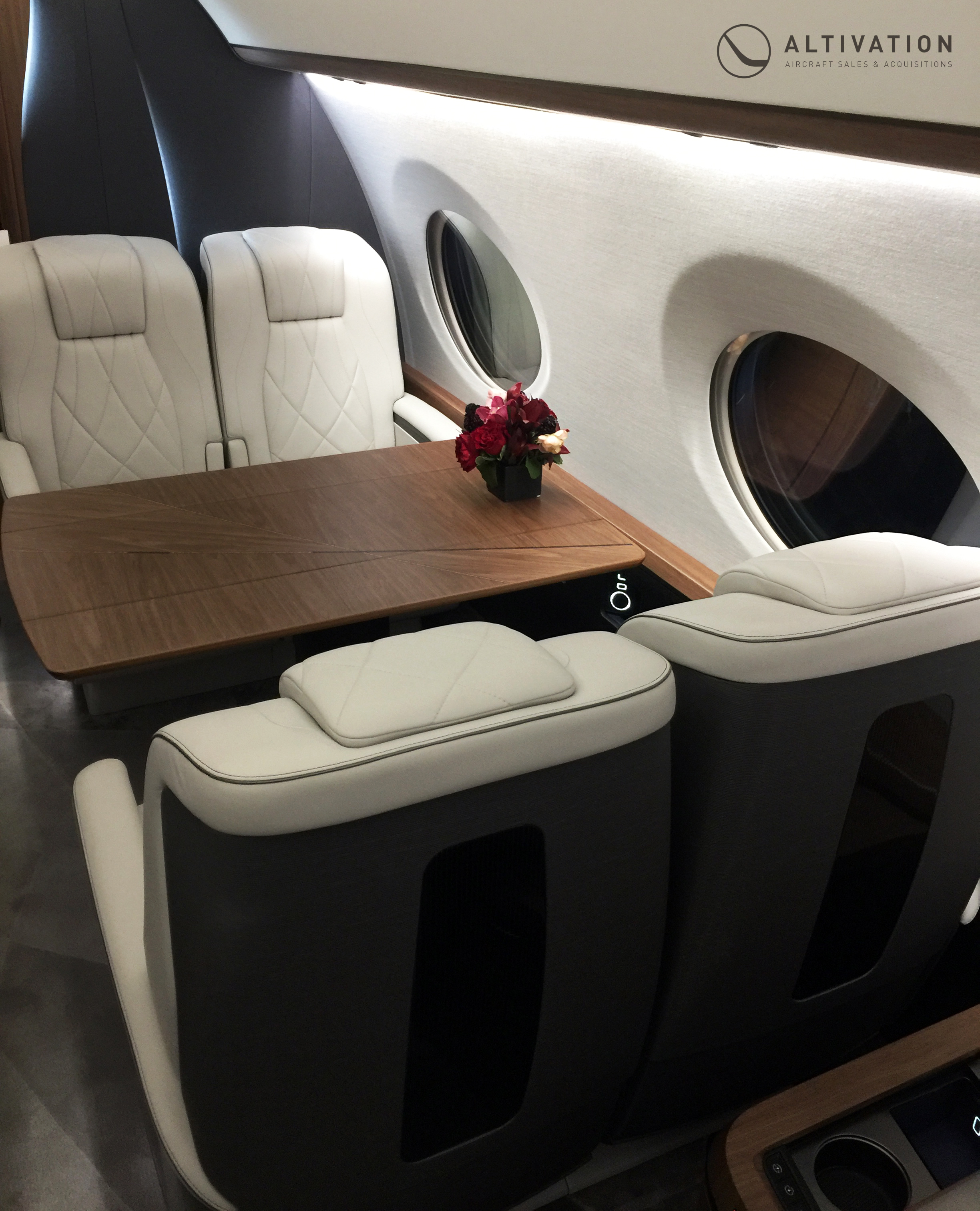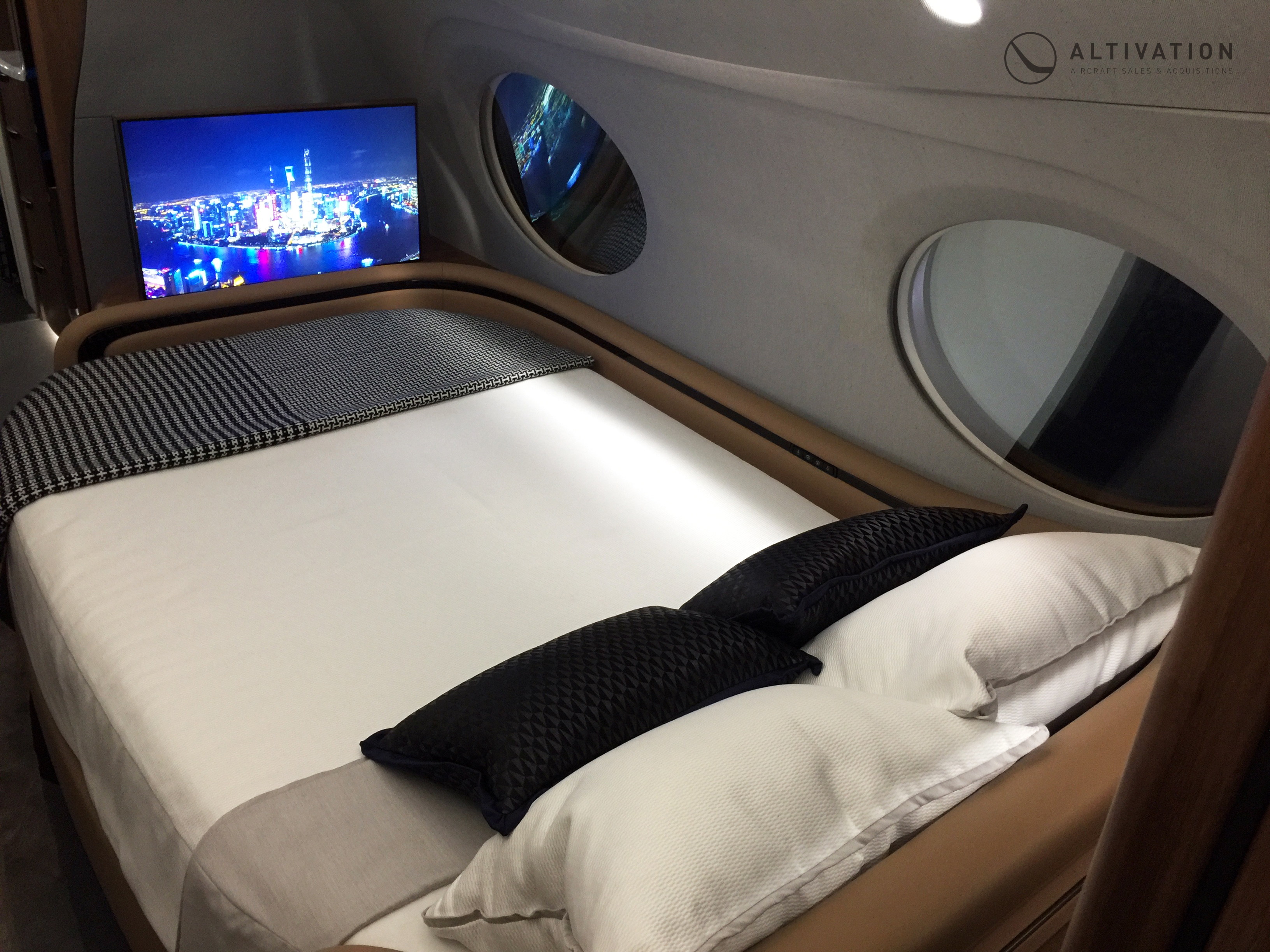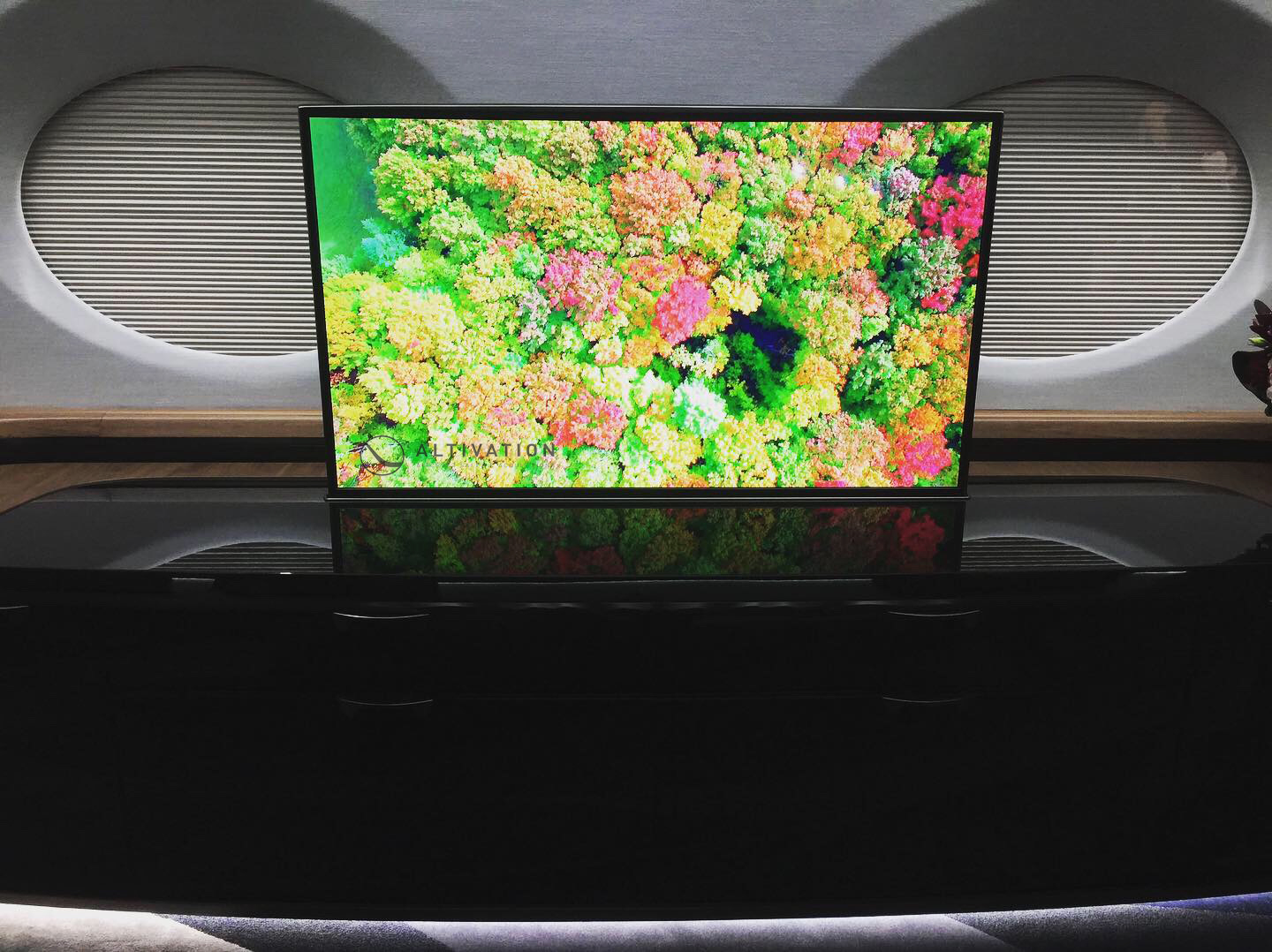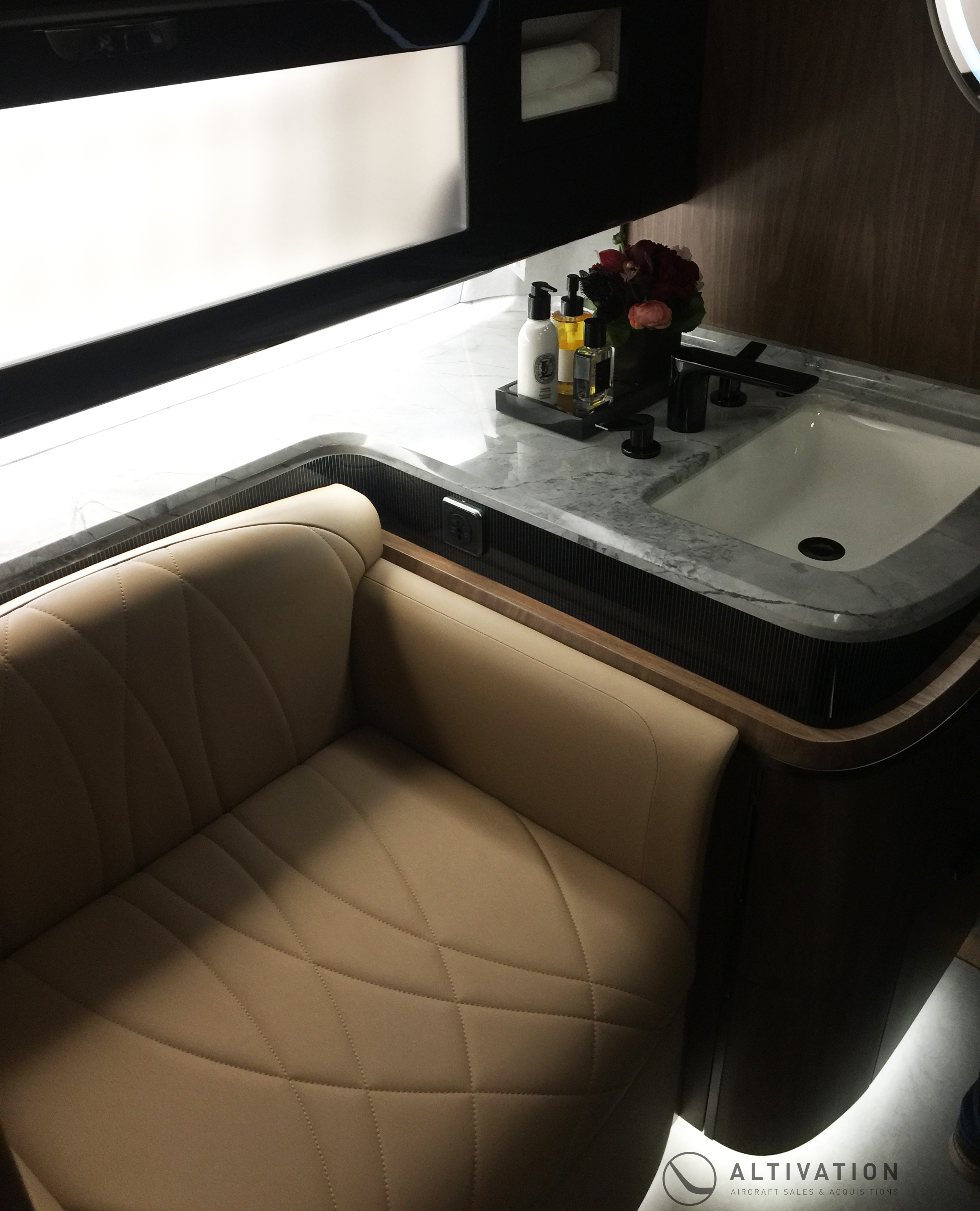 Introduced October 21st during the kick off to the 2019 NBAA-BACE in Las Vegas, the new Gulfstream G700 is the latest and largest business jet to enter the market, and we had an opportunity to spend a little time with it. At first look the ten foot longer fuselage of the G700 may not look like much, but we soon see what an extra ten feet means for this 57 foot long, over 8 foot wide cabin.
As we enter the cabin we find ourselves in a spacious and welcoming galley with two place divan and crew rest area to the right. Across from the divan a large flat counter and prep area. Helping too create this large prep area are features such as a retractable sink faucet, which retract below counter level. While the glassware cabinets above, open up along the headliner reducing their intrusion into the work area and further providing an open and functional galley.
Turning into the main cabin we are further met with the smooth and welcoming curved lines of the G700 interior design. In the forward club we find new seats with a redesign focused on greater comfort and function. While the mid cabin features a media center with large retractable screen across from a modern and comfortable 3 place divan. Past the media area we find one of the newest interior features of the G700. At first glance it looks like any other four place conference arrangement, with club seats on the opposing wall. That however is where it stops, as the stowed sidewall table of the club seating is deployed, an additional stowed table leaf is added providing passengers on the G700 a full wall to wall table with seating for up to six. 
Continuing past the dining area and through an aft cabin divider, this G700 features an aft bedroom, with a large bed and a retractable, or wall mounted screen at the foot of the bed. Further aft through the bedroom area we find an aft lavatory. The aft lavatory of the G700 offers multiple configurations from the large wardrobe closet as found in this aircraft layout to an available full shower. 
The enhancements don't just stop at the Gulfstream G700 spacious and beautifully designed cabin. The G700 features 20 panoramic signature Gulfstream windows helping to fill the cabin with natural light, while also providing a new interior lighting system. Passengers will arrive even more refreshed thanks to the low cabin pressure altitude and 100% fresh air cabin. 
Powered by two Rolls Royce Pearl 700 engines, the G700 boast an 8 passenger NBAA IFR range of 7,500 nautical miles at Mach .85, with a high speed cruise speed of Mach .90. Following the path of the G500 and G600, the G700 also features the Symmetry flight deck and is equipped with active side stick control and heads up display, just to name a few of the features available in the G700.   
With the 2019 announcement of Gulfstream's newest and fast ultra long range business jet, Gulfstream also announced Qatar Airways as the aircrafts launch customer, while Flexjet will be the first North American fleet client. Priced in the $75 million range, Gulfstream's newest flagship aircraft and make their first customer deliveries of the Gulfstream G700 sometime in 2022.
Gulfstream G700 – Specifications
| | |
| --- | --- |
| | Gulfstream G700 |
| NBAA 4 or 8* Pax IFR Range | 7,500 nm* |
| Max Cruise Speed (ktas) | 516 |
| Long Range Cruise (ktas) | 488 |
| Max Payload (lbs) | 6,400 |
| Takeoff Distance (SL, ISA, MTOW) | 6,250 ft |
| Service Ceiling (ft) | 51,000 |
| Powerplant | RR Pearl 700 x2 |
| Thrust per engine (lbf) | 18,255 |
| Avionics | Symmetry |
Gulfstream G700 - Dimensions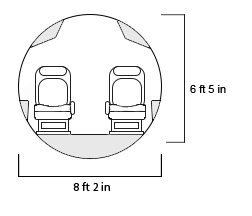 | | |
| --- | --- |
| Cabin Length (excluding baggage) | 56 ft 11 in |
| Cabin Width | 8 ft 2 in |
| Cabin Height | 6 ft 5 in |
| Aircraft Length | 109 ft 10 in |
| Wingspan | 103 ft |
| Aircraft Height | 25 ft 5 in |
| Internal Baggage | 195 cu ft |

View more Business Jet and Turboprop Comparisons
Did you miss last months article on the Lear 75? Read it now.