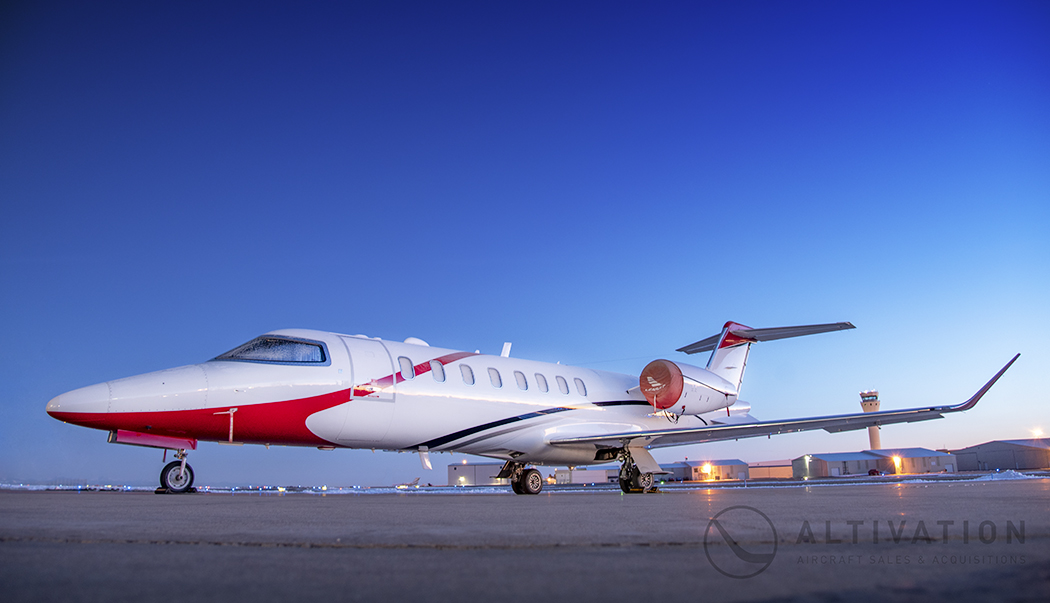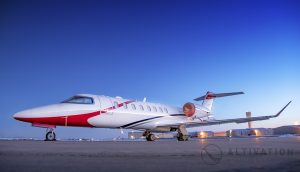 It all started in the 1960's when a Swiss company moved to Wichita, Kansas with a vision of producing an aircraft to meet the demanding travel needs of corporations. In doing so they created the first light business jets, the Lear 23. Over the following years Learjet continued the improvement and development of these popular aircraft models, increasing their size and capabilities, with Learjet eventually becoming part of the Bombardier family in 1990.
Then in 1997 the Lear 45 was introduced to the market place, offering a cabin height of nearly five feet with its flat floor design. The 45 offers seating accommodations for up to 9 passengers in the nearly 20 foot long cabin complete with lav and galley. However The Lear 45 suffered from higher weights, limiting the aircraft's passenger and fuel loads. Despite this, the Lear 45 continued to have success, and in 2003 Bombardier introduced the Lear 45XR providing improved performance with an NBAA IFR 4 pax range of 1,830 nm.
The new Lear 45XR was now powered by two Honeywell TFE-731-20 engines producing 3,500 lbs of thrust per side thus providing the 45XR with an additional 1000 pound of takeoff weight while also providing the aircraft improved hot and high performance. Meanwhile operators of straight 45's looking to gain better range and performance out of their aircraft were able to take advantage of these improvements through upgrades on their current aircraft.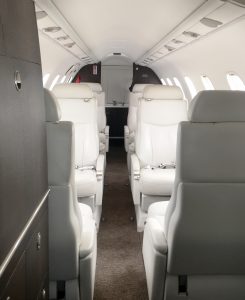 In 2013 and having delivered over 640 Lear 45's to the market, the airframe would receive further improvements, while also ending its production as the Lear 45. The Lear 45 would reemerge this same year as the Lear 75, which incorporated some slight design changes to the forward fuselage from that of 45, along with a redesigned winglet aiding in the reduction of drag. Also helping to increase the aircraft efficiency was the addition of the TFE731-40BR engines producing 3,850 lbs. of thrust per side while reducing fuel burn and providing the aircraft with a 4 passenger NBAA range of 2,040 nm. While the cabin remained essentially unchanged, the Lear 75 provides seating for up to 9 passengers with a belted lav. While in the cockpit the Lear 75's crew of 2 would find a new avionics suite, with the addition of the Garmin G5000.
Buyers looking into a Lear 45XR can expect to find aircraft available in the $3,000,000 and $4,000,000 (USD) range, with an annual variable operating cost of around $1,500 (USD) per hour. In comparison buyers will find the Lear 75 priced around the $14,000,000 range for new aircraft, with used aircraft available on the market ranging closer to around $6,000,000 with a variable estimated cost per hour of $1,800.
Interested in more information on the Lear 75 and to see how it stacks up against others in it class? Visit our aircraft comparison pages or use the link provided below.
Lear 75 – Specifications
| | |
| --- | --- |
| NBAA 4 Pax IFR Range | 2,040 nm |
| Max Cruise Speed (ktas) | 450 |
| Long Range Cruise (ktas) | 437 |
| Max Payload (lbs) | 2,110 |
| Takeoff Distance (SL, ISA, MTOW) | 4,440 ft |
| Service Ceiling (ft) | 51,000 |
| Powerplant | TFE731-40BR x2 |
| Thrust per engine (lbf) | 3,850 |
| Avionics | G5000 |
| Est. Cost Per Hour | $1,785 |
| | |
| Passengers + Crew | 9+2 |
Lear 75 – Dimensions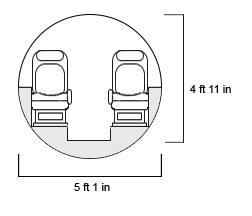 | | |
| --- | --- |
| Cabin Length (excluding baggage) | 19 ft 10 in |
| Cabin Width | 5 ft 1 in |
| Cabin Height | 4 ft 11in |
| Aircraft Length | 58 ft |
| Wingspan | 50 ft 11 in |
| Internal Baggage | 15 cu ft |
| External Baggage | 50 cu ft |
Miss last month Article on the newly certified G600? Read it now here.