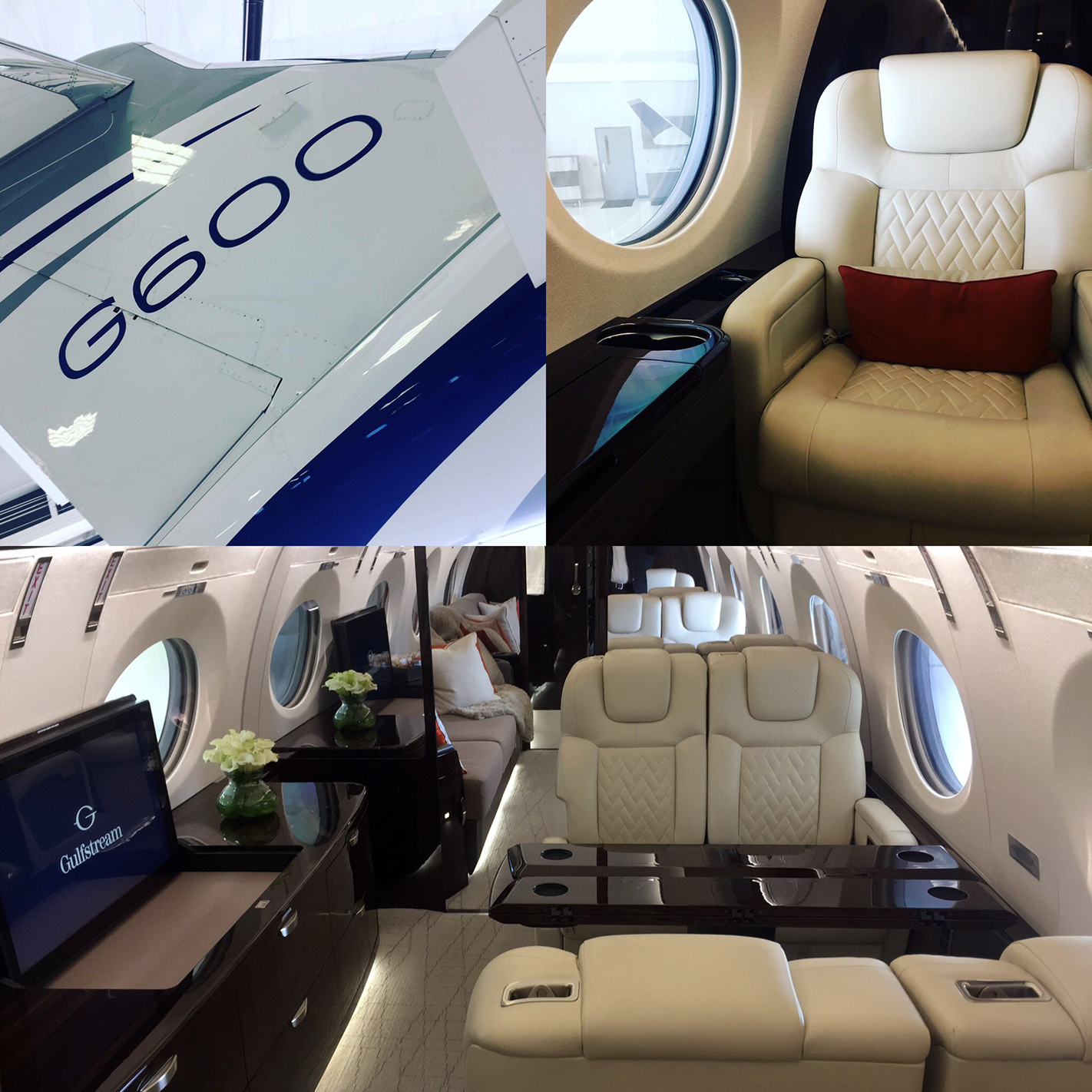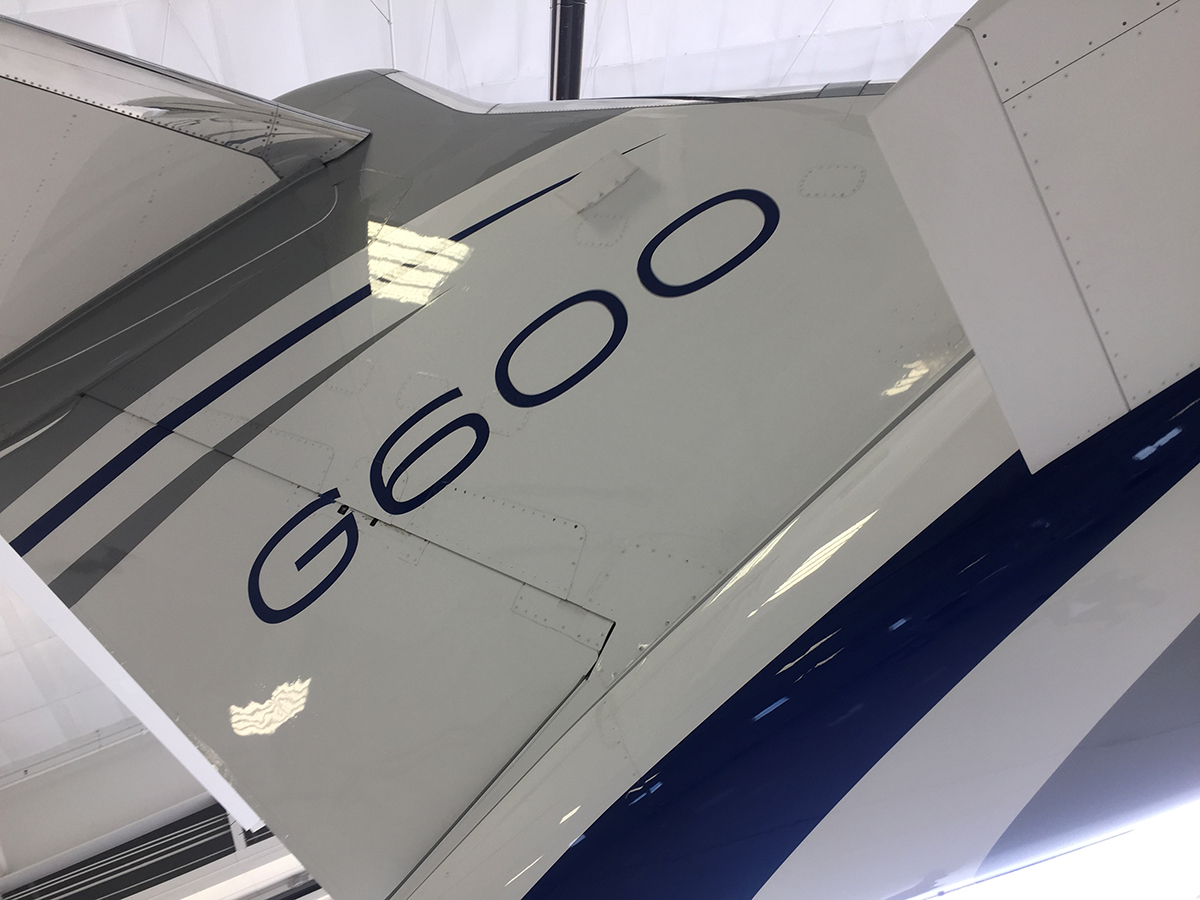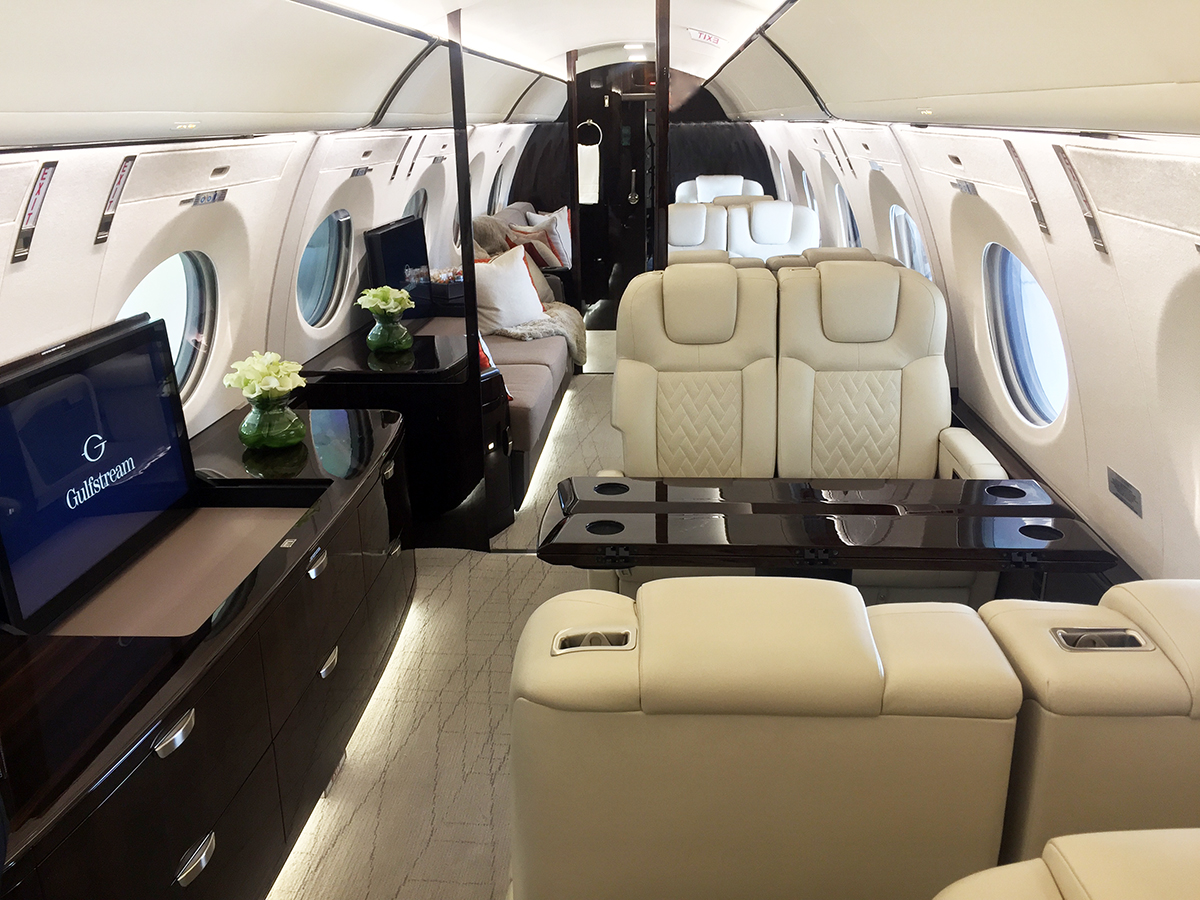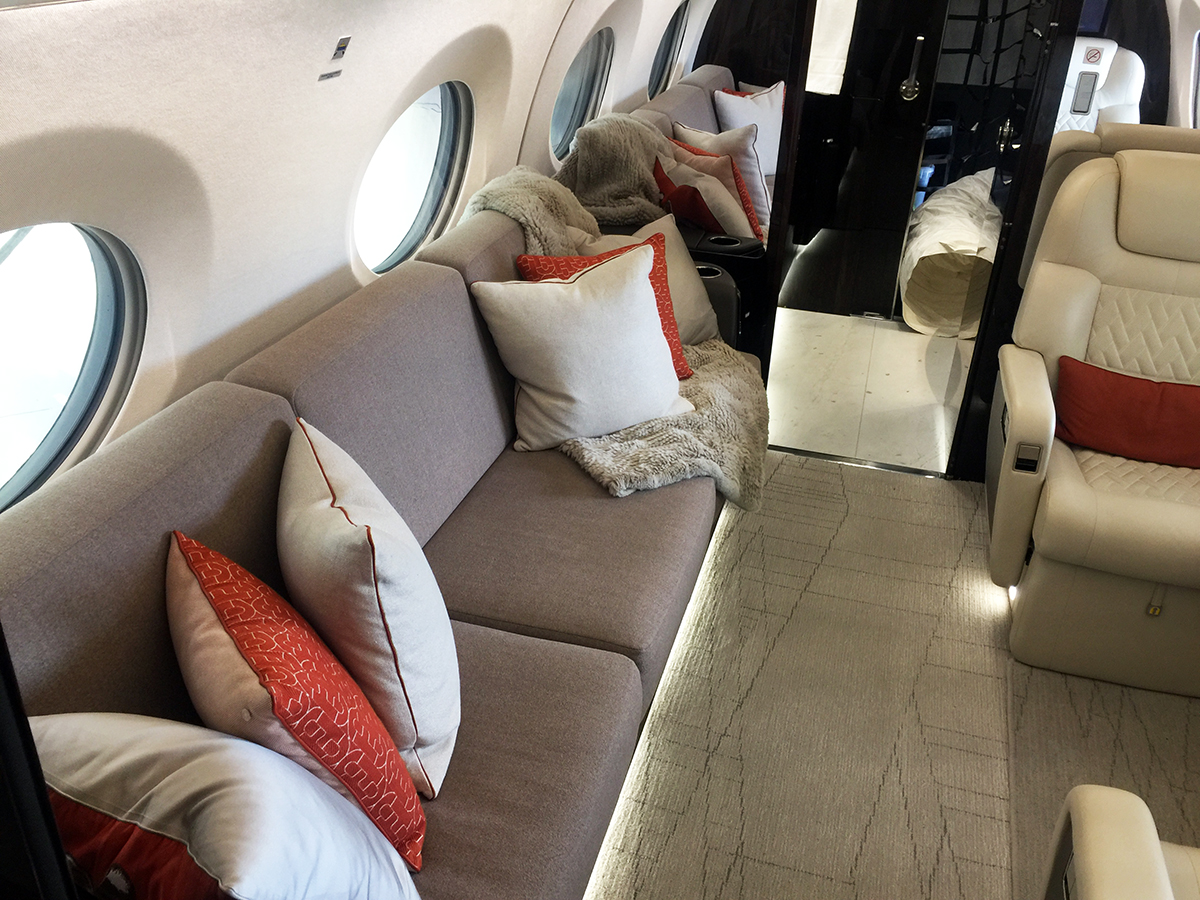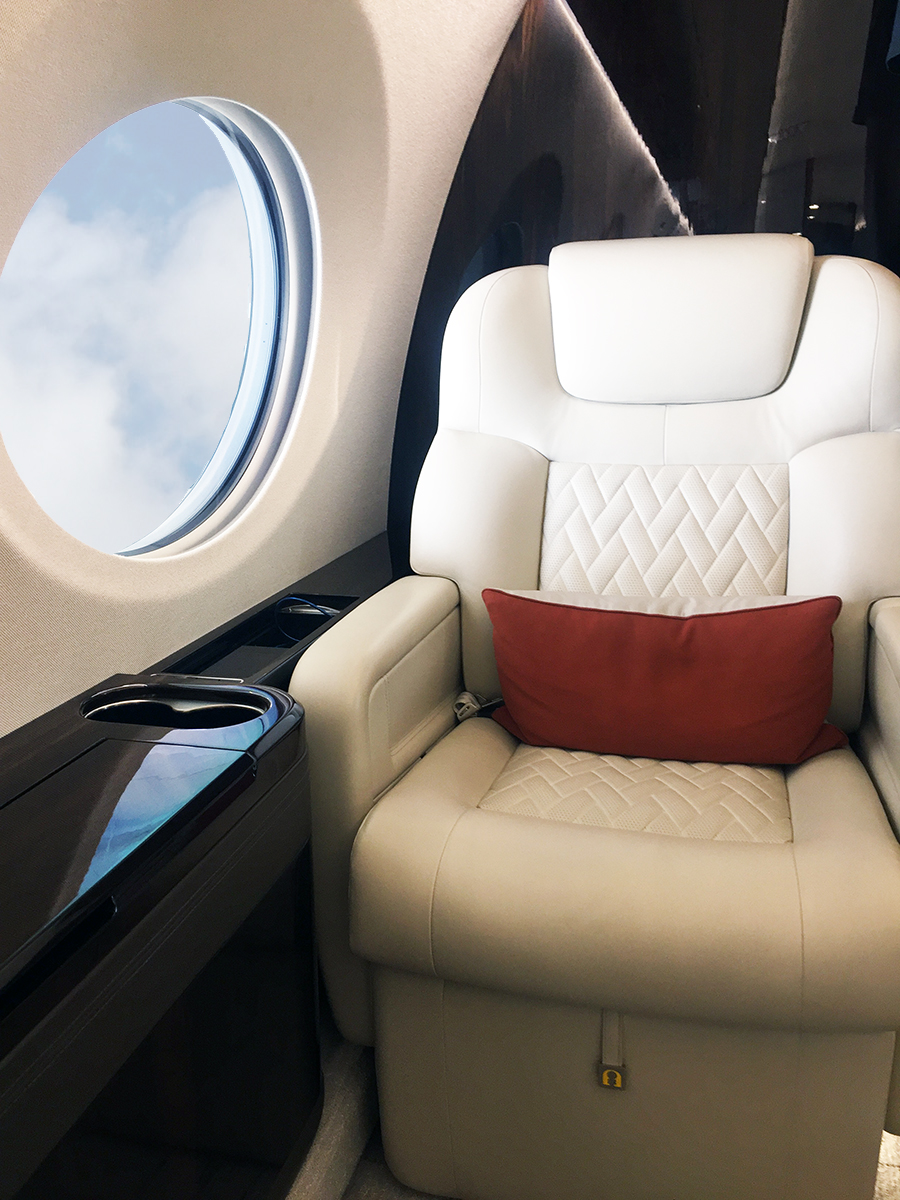 Introduced at NBAA-BACE in 2007, we recently took a closer look at Gulfstream's newest FAA certified aircraft the Gulfstream G600. Receiving its certification in late June of 2019, the G600 offers new design elements and features, along with a multitude of customer interior layout and design options, in this 19 passenger ultralong range aircraft. Aside from some of the new design elements and features of the new G600, we will take a brief look at how the G600 compares to the successful G550 in production since 2003 with more than 500 aircraft delivered to date.
Interior:
Making our way up the airstair of the G600, we step into a forward entry with stone floor and crew rest area, across from a forward lav. In the forward galley, the G600 features larger quartz counter space than in previous aircraft with the option to have refrigeration moved to below counter level. Across from the large preparation area, a galley sink, with quartz counter top, interchangeable beverage maker, and optional steam oven. Gulfstream designers left no detail untouched in the galley, incorporating an up lit design on the crystal glassware, providing a shimmering elegance in the glass storage presentation.
The main cabin of the G600 is divided up into as many as four living areas, with each cabin section offering owners a wide verity of option and design layouts to meet owner's individual needs. From a credenza with fold up 32 inch screen, to divans that can convert to beds, or even fixed beds for those ultra-long range flights. The G600 offers a multitude of seating configurations and several seat design options in its 45 foot 2 inch long nearly 12 foot wide cabin, providing the G600 over 2 foot more cabin length, and a 7 inch wider cabin then that of the G550.
Performance:
One of the bigger changes with the G600 from that of the G550 is the change from Roll-Royce engines to the Pratt and Whitney PW814GA engines producing 15,680 lbf per side. Along with the engine change and improvements in aircraft efficiency, the G600 offers a range of 6,500 nautical miles at a cruise speed of Mach 0.85, or a range of 5,500 nautical miles at high speed cruise of Mach 0.90. At time of our visit with the G600 in July, the G600 had already set speed records between 11 city pairs according to Gulfstream representatives, an impressive feat for Gulfstream latest aircraft offering.
In the cockpit of the new Gulfstream G600, features the Symmetry Flight Deck, with active sidestick controls, and 10 touchscreen displays, and a heads up display. These advancements in avionics and feature enhancements continue to help reduce pilot workload and increase situational awareness in low visibility conditions.
The Gulfstream G600 with its modern and elegant design, continues to provide the latest in passenger comfort, from in-flight connectivity options and entertainment, to the 100 percent fresh air cabin, to Gulfstream's low cabin altitude at just under 5000 feet. Passengers on the G600 will not only remain productive in flight with the global connectivity, but arrived at their destination refreshed from the abundance of natural light provided by the G600's 14 large signature windows. Buyers of the G600 will find an entry price in the mid $50millions, with deliveries just starting in July 2019.
Learn more on the Gulfstream G600 range and compare with other Gulfstream models at: Gulfstream Range Map
Gulfstream G600 – Specifications
| | |
| --- | --- |
| NBAA 4 or 8* Pax IFR Range | 6,500 nm |
| Max Cruise Speed (ktas) | 516 |
| Long Range Cruise (ktas) | 488 |
| Max Payload (lbs) | 6,000 |
| Takeoff Distance (SL, ISA, MTOW) | 5,700 ft |
| Service Ceiling (ft) | 51,000 |
| Powerplant | PW814GA x2 |
| Thrust per engine (lbf) | 15,680 |
| Avionics | Symmetry |
| Est Cost Per Hour | no data |
| | |
| Passengers + Crew | 19+3 |
Gulfstream G600 – Dimensions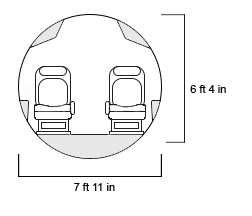 | | |
| --- | --- |
| Cabin Length (excluding baggage) | 45 ft 2 in |
| Cabin Width | 7 ft 11 in |
| Cabin Height |  6 ft 4 in |
| Aircraft Length | 96 ft 1 in |
| Wingspan | 94 ft 2 in |
| Internal Baggage | 175 cu ft |
View more Business Jet and Turboprop Comparisons
Did you miss last months article on the Pilatus PC-24? Read it now.