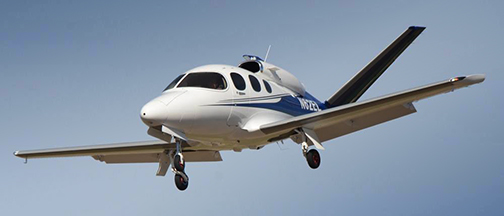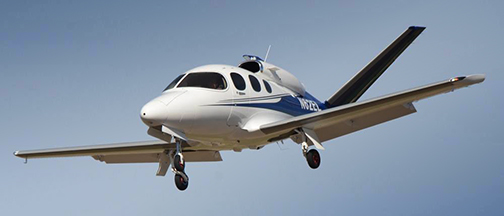 Originally entering service in 2016 the Cirrus Vision Jet recently announced the second generation (G2) in early 2019, and providing the next evolution in aircraft progression for operators looking to enter the light jet market. For any of the current 7000 plus Cirrus owners, the Vision Jet provides a simplified upgrade path with many similarities to that of their previous Cirrus piston aircraft with both cockpits having nearly identical layouts, helping to further ease the transition while reducing pilot workload.
Cirrus owners or operators familiar with the popular Cirrus piston aircraft will find that unlike the piston aircraft which features a carbon composite fuselage only, the G2 Vision Jet is constructed entirely out of carbon composite including the wings. This leaves only the flight control surfaces constructed out of aluminum. Also in contrast to that of the piston aircraft, the Vision Jet features retractable, trailing edge landing gear providing a much softer and more forgiving landing.
The G2 Vision Jet is thrust into the air in just over 2,000 feet of runway thanks to its single fuselage mounted FJ33-5A turbofan engine which produces 1,846lbs of center-line thrust. Controlled by a full authority digital engine control or FADEC which helps further reduces the single pilot work load by providing a single lever power control, automated engine starting, simplified engine management, and all while incorporating auto throttles. With a max cruise speed of 311 knots, and a service ceiling of 31,000ft, the Cirrus G2 Vision Jet now offers increased range at just over 1,200nm with an average estimated operating cost of just under $700 per hour.
Stepping inside the G2 Vision Jet, one will find a cabin with seating for up to 5 adults and 2 kids. The 2 forward crew seats have been designed with the owner operator in mind thus allowing the pilot seat to slide fully aft providing the pilot the ability to enter in the cabin door and into the seat without the need to step over the console between the two seats. Continuing in the cockpit operators will also find the feature rich Garmin Perspective+ G3000 avionics suite, and side stick controls as found in the Cirrus piston line. Overhead and center between the two forward pilot positions, is the emergency airframe parachute system handle, fire suppression, and emergency oxygen masks.
In the passenger portion of the G2 Vision Jet cabin are 5 seats able of accommodating 3 adult with 2 children seats. Sticking with the versatility of the cabin, all cabin seats are easily removed allowing operators to meet different mission needs. Providing passenger entertainment in flght, the G2 Vision Jet features a 22 inch drop-down monitor for the rear cabin, and SiriusXM radio can now be controlled through an app on your mobile device. Arriving more refreshed at their destination passengers can now thank the improved cabin pressurization of the G2, providing a cabin pressure altitude of 8,000 feet while cursing at FL310.
Buyers looking to move up from their current high performance piston aircraft will find higher training requirements as a type rating is required for all turbine aircraft including the G2 Vision Jet. While also certified for single pilot operations, operators can expect to undergo a 10 day initial type rating course with annual recurrent training lasting a few days.  For those looking to buy an Cirrus Vision Jet buyers can expect to see current acquisition cost (at time of this blog) around $1.9 million for earlier models with new G2 Visions closer to $2.8 million depending on options.
360 Virtual Tours
Cirrus G2 Vision Jet Specifications
| | |
| --- | --- |
| NBAA 4 Pax IFR Range | 950 nm |
| Max Cruise Speed (ktas) | 311 |
| Long Range Cruise (ktas) | 256 |
| Max Payload (lbs) | 1,350 |
| Takeoff Distance (SL, ISA, MTOW) | 2,036 ft |
| Service Ceiling (ft) | 31,000 |
| Powerplant | FJ33-5A x 1 |
| Thrust per engine (lbf) | 1,846 |
| Avionics | G3000 |
| Est. Cost Per Hour | $670 |
| | |
| Passengers + Crew | 6+1 |
See full spec – click here for our aircraft performance specification pages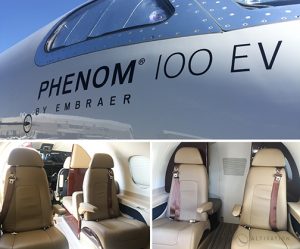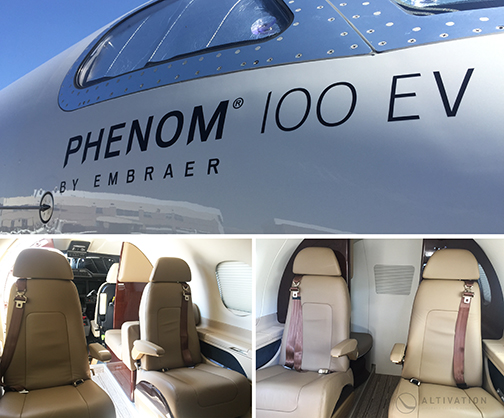 Read our April 2019 Newsletter as we look at the Phenom 100EV