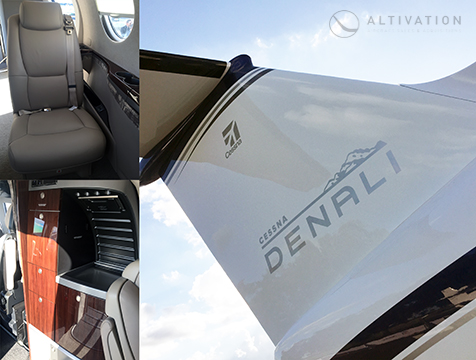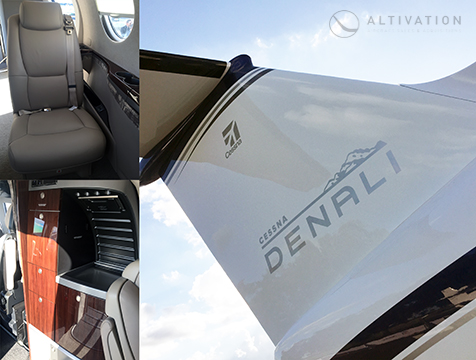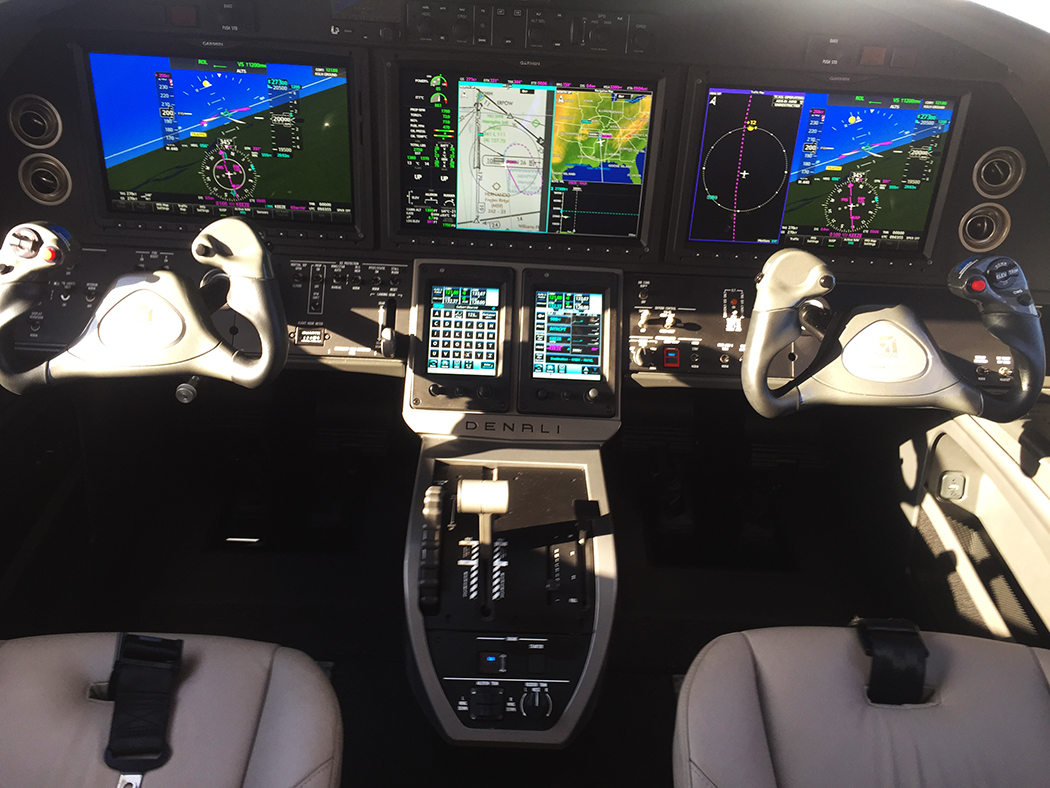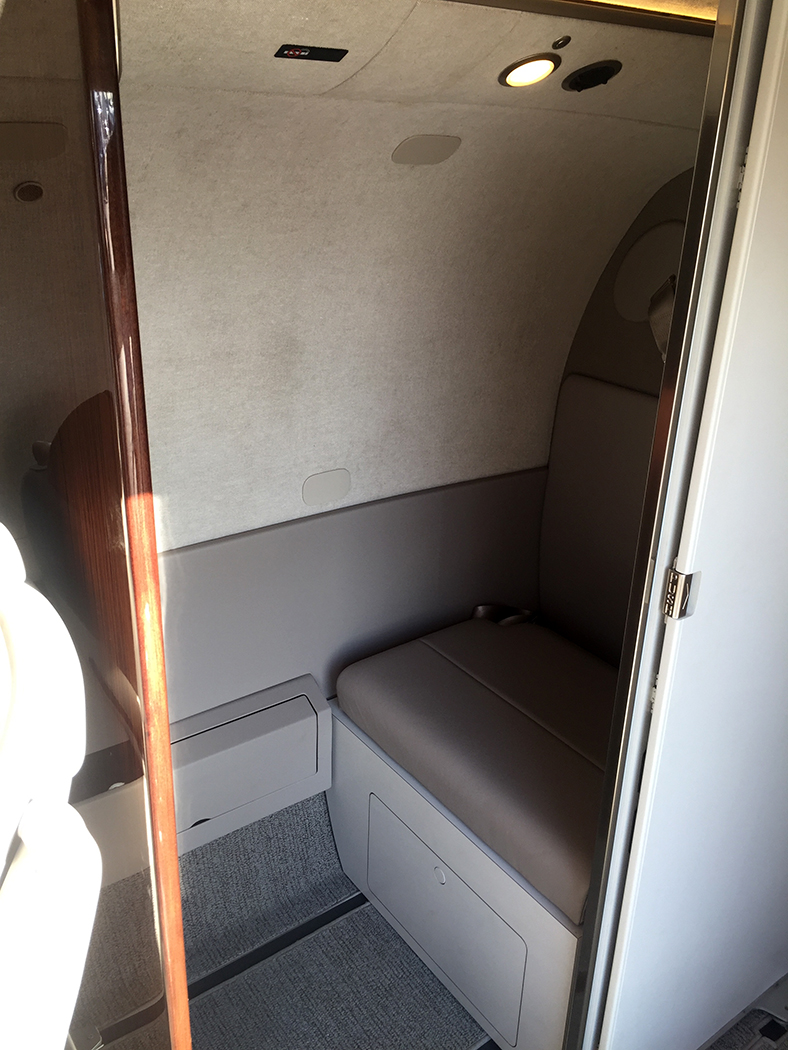 Announced at EAA AirVenture in 2015, the Cessna Denali is the newest entry into the already popular single engine turboprop segment. The Denali is set to start flight testing this year, with the first customer deliveries of this new high-performance single engine, advanced technology turboprop aircraft slated for 2020.
Cessna has adapted new technology not only in the development and production of the aircraft, but in the aircraft itself. Starting at the very front of the aircraft, Cessna has chosen the GE Catalyst power plant, an advanced turboprop engine featuring 1,240 shp and a 4,000 hour TBO, driving a McCauley-Blackmac carbon composite five blade prop. All of this propels the Denali at a speed of up to 285 knots, with a range of 1,600nm with 4 passengers and a single pilot. Helping reduce the single pilot workload is an advanced single lever control which controls the propeller pitch, speed, and throttle. The full authority digital engine control (FADEC) could be considered a digital co-pilot, as it helps to reducing pilot workload and increase safety. Rounding out the cockpit technology and enhancing single pilot operations is the Garmin G3000 featuring three 14-inch touch screen displays with synthetic vision technology and enhanced digital weather radar.
In the 16'9" long and 6,130-foot cabin altitude of the pressurized Denali cabin, passengers will find a spacious and versatile flat-floor cabin. Multiple interior options are available ranging from an executive configuration with forward galley and aft lav to a high-density interior with seating for up to 11. The aft lavatory features a solid door and offers several versatile options depending on the operator's mission needs. These include a removable belted lav to allow for increased cargo capacity when needed, to a permanent externally-serviced lav. As with other competitors in its class the Denali offers a large forward air stair entry, and a large  4'3" x 4'2" rear cargo door nearly the same size as that of the Pilatus PC-12.
In order for the Denali to meet the demands required of a versatile multi-mission aircraft, Cessna incorporated a trailing link landing gear and larger tires. This provides the Denali with the versatility to operate off of and into both improved and unimproved airports around the world, with an acquisition cost of just under $5 million, it is sure to be a contender with similar aircraft in its class.
View our Aircraft Performance Comparisons
Cessna Denali compared to Pilatus PC-12
| | | |
| --- | --- | --- |
| | Cessna Denali | Pilatus PC-12 |
| NBAA 4 Pax IFR Range (full fuel) | 1,600 nm | 1,608 nm |
| Max Cruise Speed (ktas) | 285 | 285 |
| Long Range Cruise (ktas) | TBD | 225 |
| Max Payload (lbs) | 1,100 | 2,257 |
| Takeoff Distance (SL, ISA, MTOW)) | 2,900 | 2,600 |
| Service Ceiling (ft) | 31,000 | 30,000 |
| Powerplant | GE Catalyst | PT6A-67P |
| Thrust per engine (shp) | 1,240 | 1,200 |
| Inspection (TBO) | 4,000 | 3,500 |
| Avionics | Garmin G3000 | Honeywell APEX |
| Est. Cost Per Hour | TBD | $726 |
| | | |
| Passengers + Crew | 7+1 | 7+1 |
| Pressurized Cabin | Yes | Yes |
| | | |
| Cabin Length | 16 ft 9 in | 16 ft 11 in |
| Cabin Width | 5 ft 3 in | 5 ft |
| Cabin Height | 4 ft 10 in | 4 ft 10 in |
| Aircraft Length | 48 ft 9 in | 47 ft 3 in |
| Wingspan | 54 ft 3 in | 53 ft 4 in |
| | | |
| Production Years | 2020 | 1994-Present |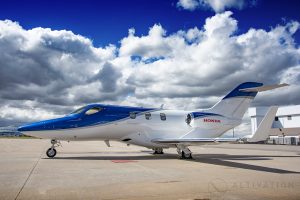 Read last months article on the Honda Jet Elite