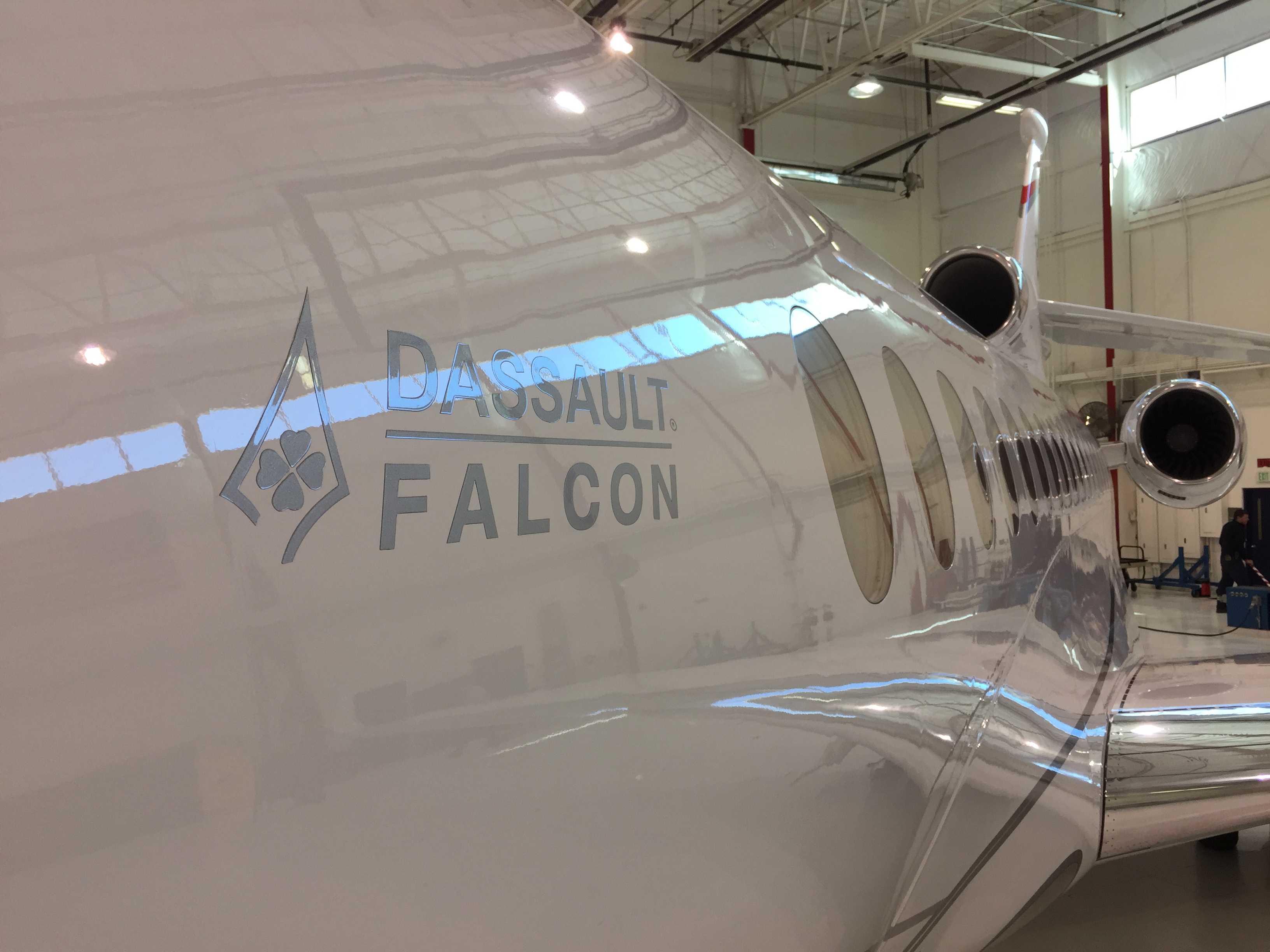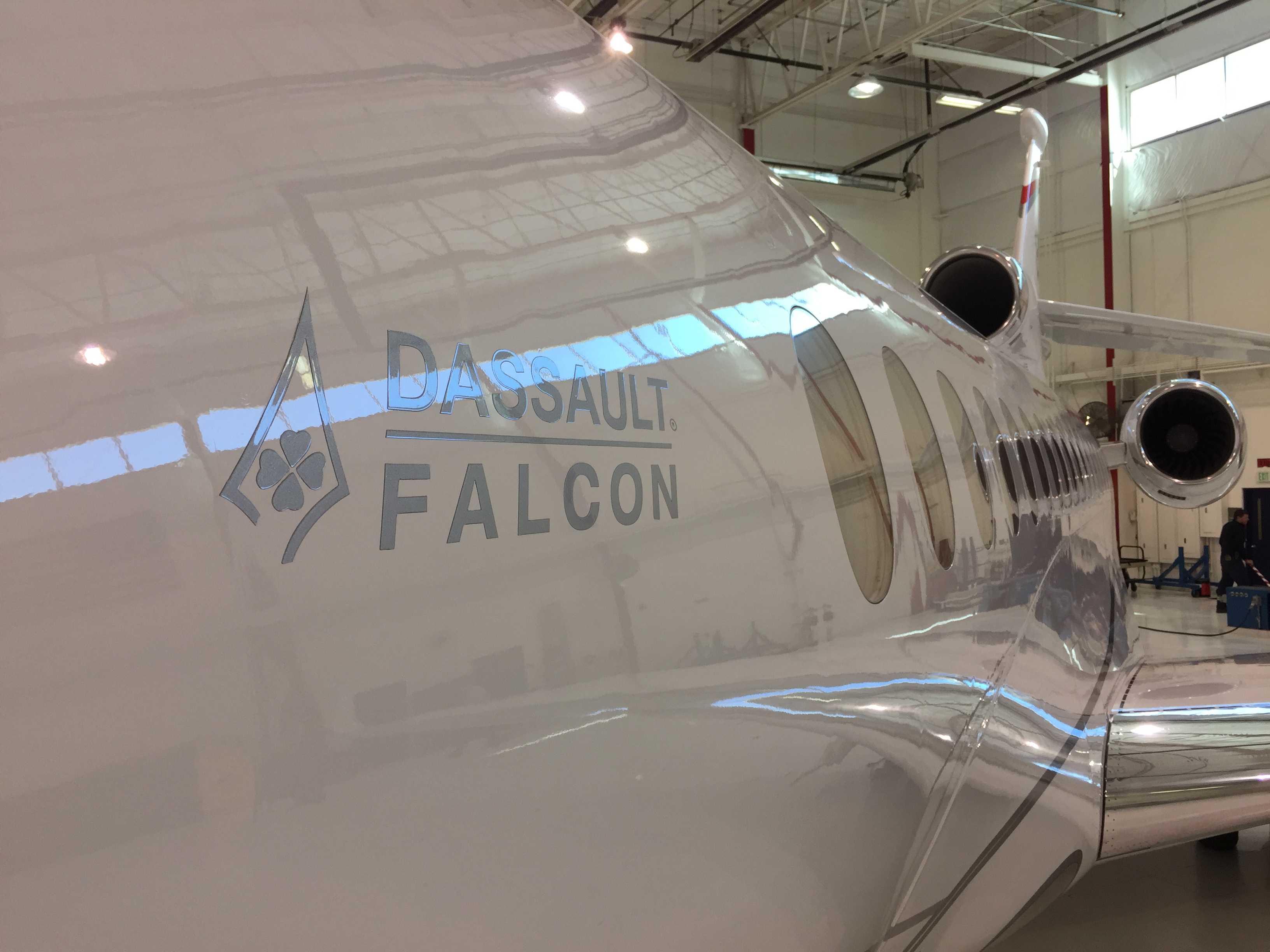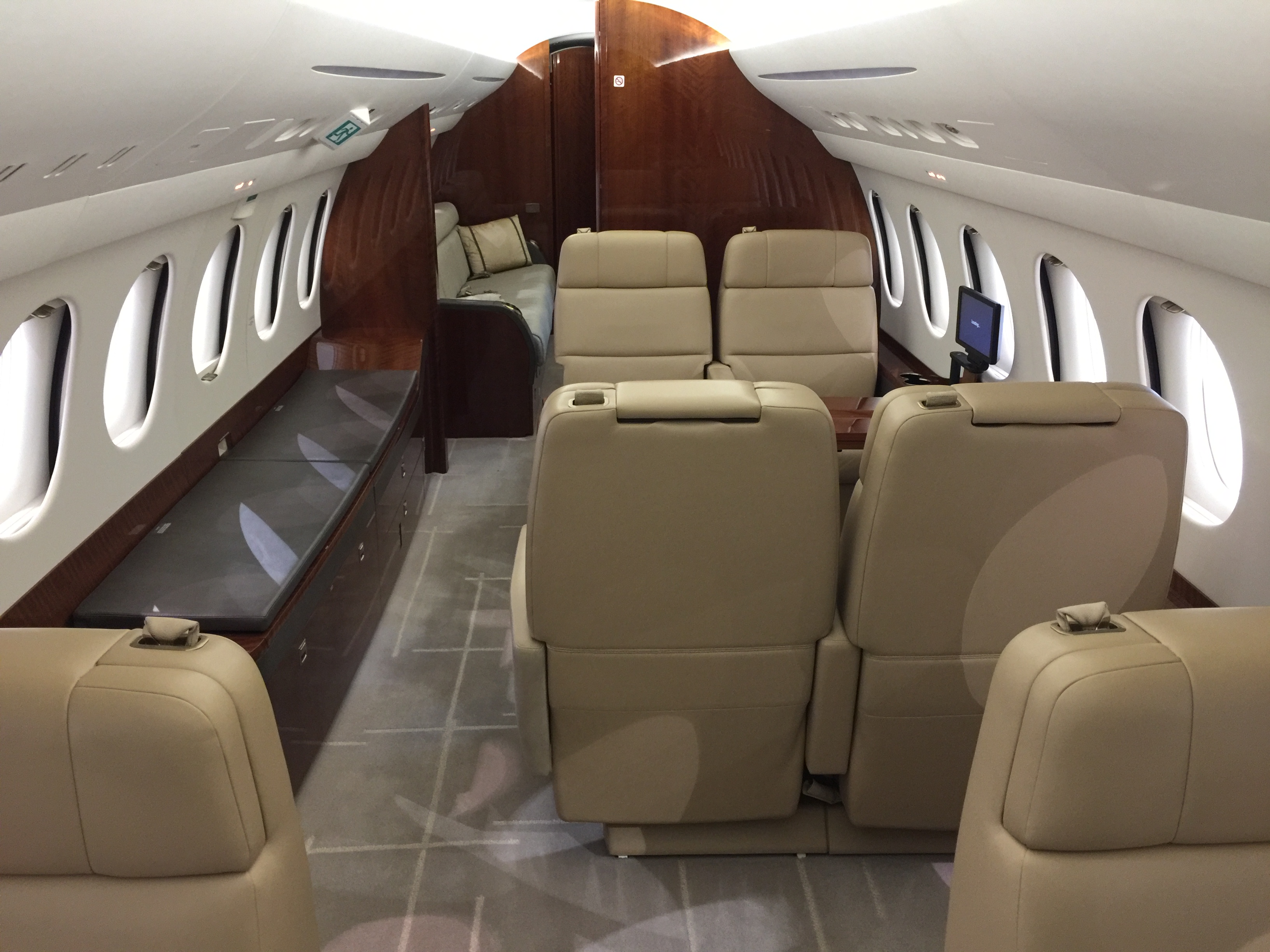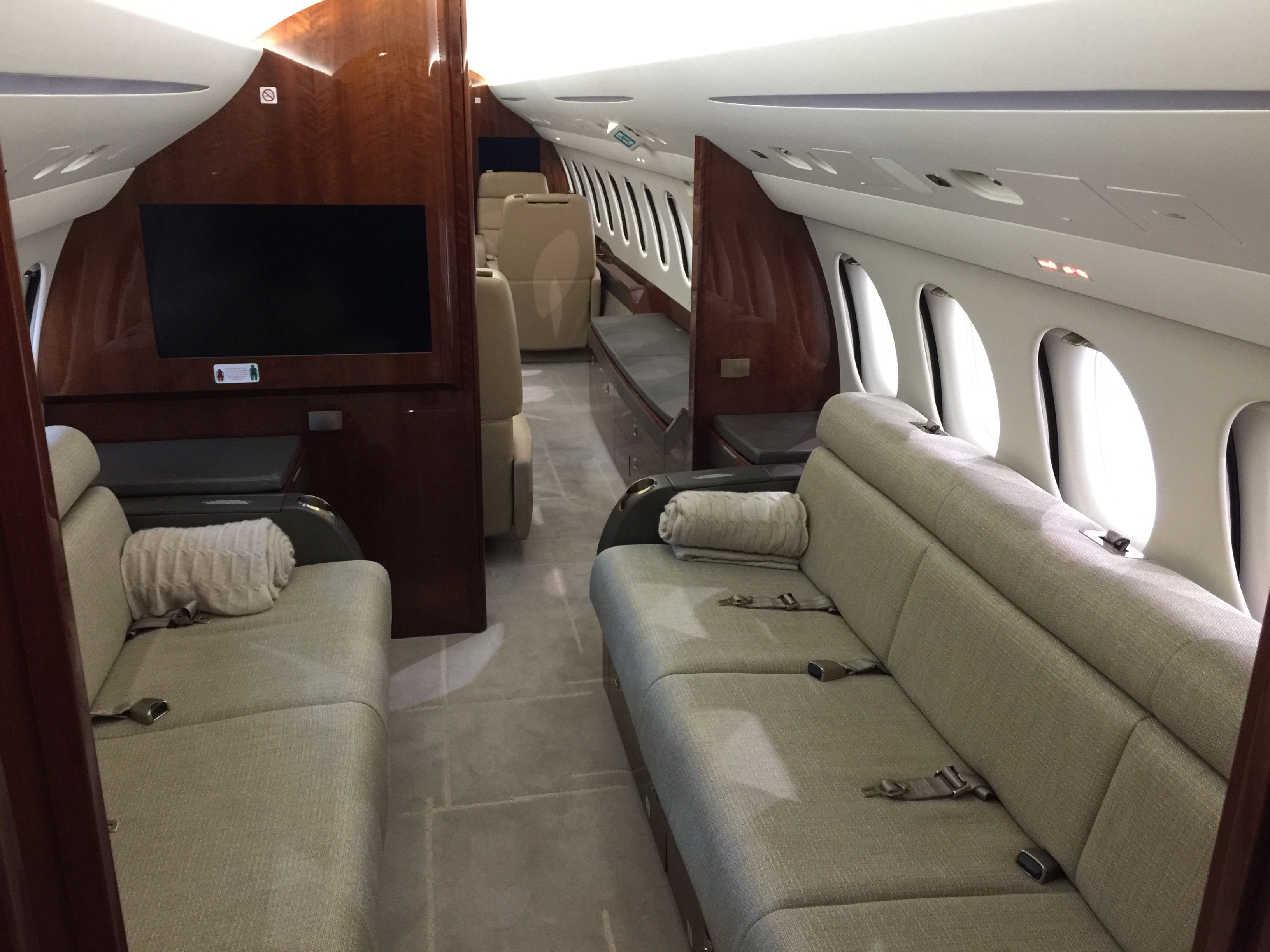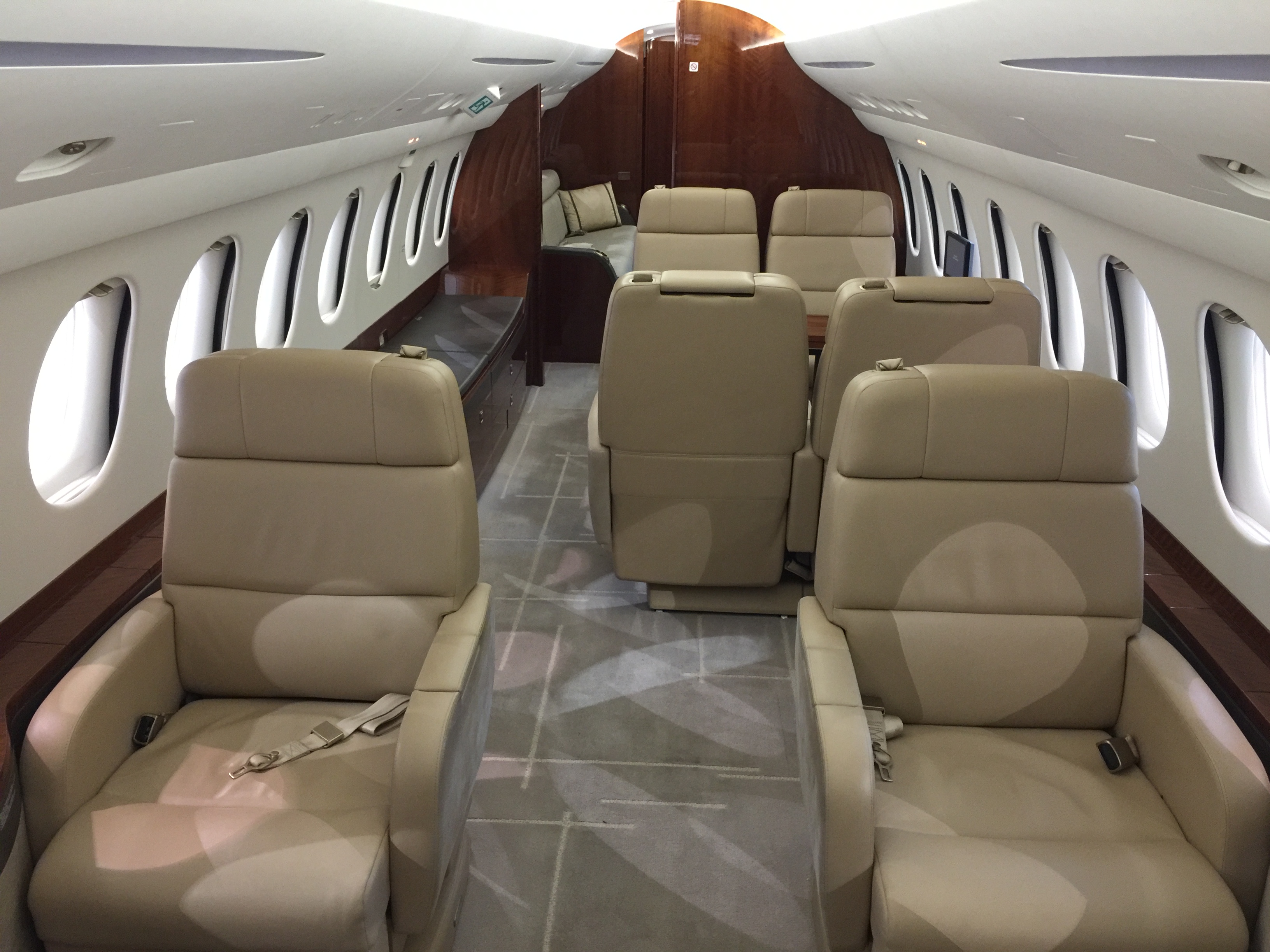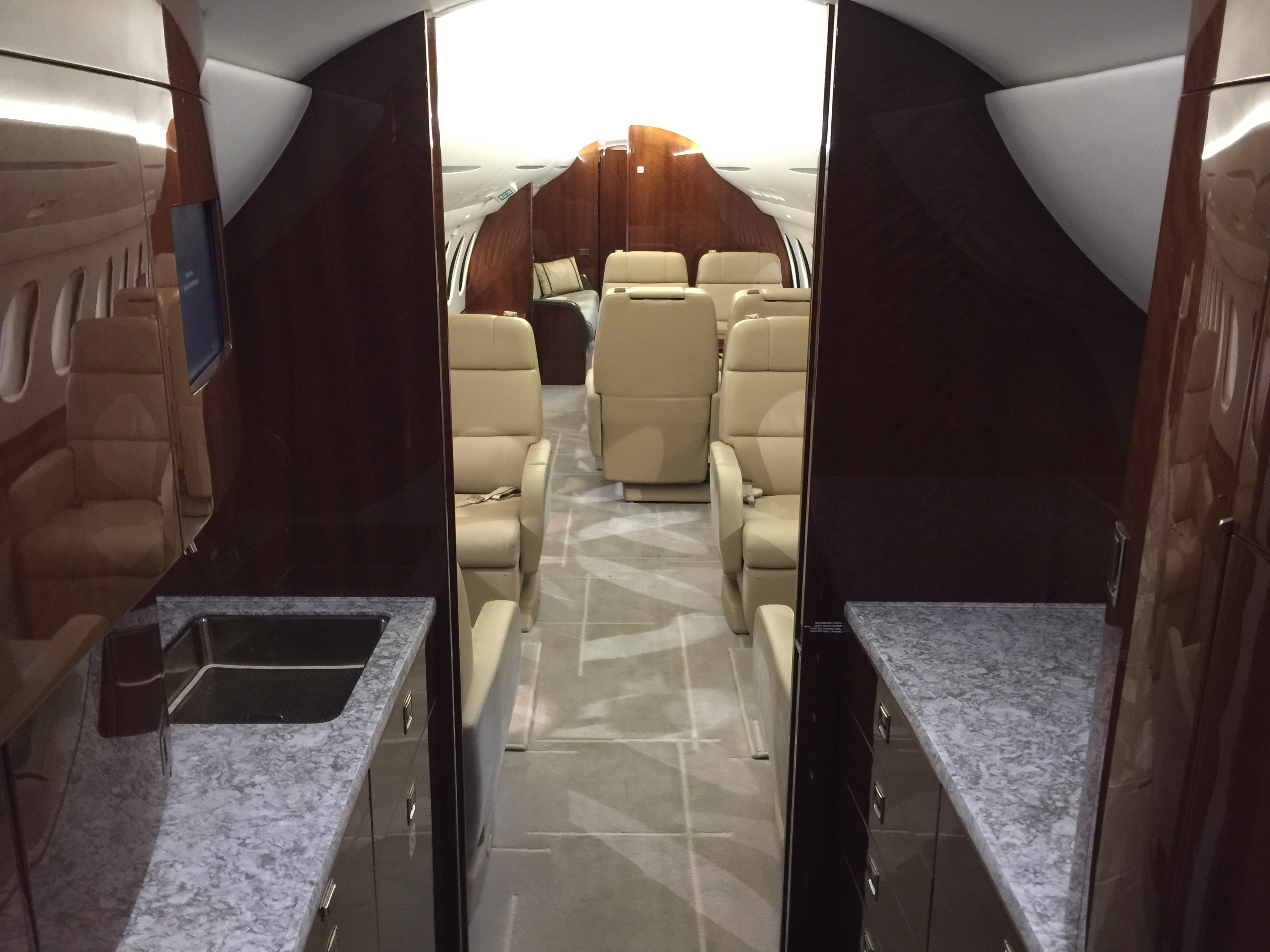 In 2016 Dassault delivered its first Falcon 8X aircraft, after nearly 10 years of success with the Falcon 7X. The latest addition in the Dassault fleet, is a slightly longer version than its predecessor, with its upgraded engines and modified fuel tanks, giving the Dassault Falcon 8X longer range and allowing the aircraft to make the trip from London to Hong Kong, or London to New York with ease.
The 6,500nm range of the Dassault Falcon 8X makes it comparable to other ultralong range aircraft like the Gulfstream 650 and Global aircraft. With the addition of the larger Pratt and Whitney Canada PW307D engines (PW307A on the 7X) which produce almost 5 percent more thrust while providing reduced fuel consumption by almost 2 percent. This additional power also equates to better runway performance as Dassault highlights the 8X is capable of taking off on London City's 3,934 foot runway, and flying nonstop to New York. For those that operator from higher elevation airports, the Dassault Falcon 8X can depart from airports such as Eagle, Colorado at an elevation of 6,540 ft, and fly nonstop to Geneva, Switzerland. This increased range not only comes from the increase in engine efficiency but the redesign of the wing fuel tanks and the additional center belly fuel storage adding an additional 3,000 lbs of fuel, allowing for up to 14 hours of nonstop flight time.
The cabin of the Dassault Falcon 8X is slightly longer than that of the 7X, and when we say slightly the 8X is all of 3.5 feet longer. However in an aircraft that equates to a lot of extra room, and has allowed for the addition of 2 more windows per side to bring in more natural light into the cabin. In addition this additional length has opened up assortment of cabin layout options all starting with 3 primary design option. These three primary options available provide different forward cabin configurations to better meet owner's needs. Once in the cabin passengers will find a luxurious forward, mid and aft cabin aircraft. The aircraft pictured here which we recently visited featured a large forward galley (can be configured for optional crew rest area), aft of the galley forward club seating with side tables with an aft conference table. In the aft cabin a dual divan on each side of the cabin. The divans can be converted to a full lay flat bed for those longer flights. Aft of the rear cabin a large lav with optional shower that provides up to 30 mins of shower time. In flight passenger will be able to stay connected and manage the cabin systems through their mobile device, with the FalconCabin HD+ Cabin Management system, all while enjoying a cabin altitude of 6,000 feet at FL510.
In the cockpit, the Dassault Falcon 8X features the Honeywell Primus Epic III avionics with four, 14.1 inch screens, and fly-by-wire side control stick. The advanced fly-by-wire computer system helps to ensure that the aircraft's flight envelope is not exceeded and prevents pilots for exceeding this envelop by stopping stalls and other dangerous flight conditions before they occur. Forward of the left pilot position a HUD system integrated to provide enhance situational awareness and vision in low visibility condition with an available option to have a dual HUD system for both pilot positions. Since the Dassault Falcon 7X and 8X are so similar in systems, size and avionics the two aircraft share the same type rating, requiring only a two day difference training for pilots moving into the 8X.
For a side by side comparisons of the Dassault Falcon 7X and 8X ultralong range aircraft see the comparison chart below.
Dassault Falcon 7X and 8X Aircraft Comparison:
| | | |
| --- | --- | --- |
| | Falcon 7X | Falcon 8X |
| Range (8pax plus crew (3) w/ NBAA Reserves) | 5,870 | 6,450 |
| Max Cruise Speed (kias) | 488 | 488 |
| Long Range Cruise (ktas) | 459 | 459 |
| Max Payload (lbs) | 6,000 | 4,900 |
| Takeoff Distance (SL, ISA, MTOW) | 5710 | 5,910 ft |
| Service Ceiling (ft) | 51,000 | 51,000 |
| Powerplant x 3 | PW307A | PW307D |
| Avionics | Easy II | Easy III |
| | | |
| Passengers + Crew | up to 16 | up to 16 |
| Sleeps (Passengers) | 5 – 6 | 5 – 6 |
| Internal Baggage | 140 cu ft | 140 cu ft |
| External Baggage | N/A | N/A |
| | | |
| Cabin Length (excluding baggage) | 39.07 ft | 42.67 ft |
| Cabin Width | 92 in | 92 in |
| Cabin Height | 74 in | 74 in |
| Aircraft Length | 76.70 ft | 80.2 ft |
| Wingspan | 86 ft | 86.25 ft |